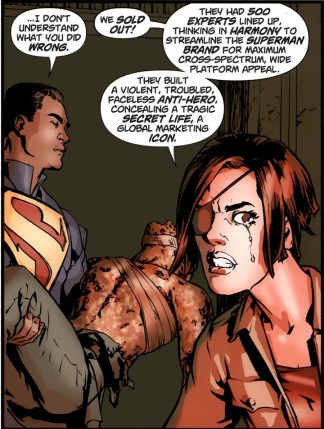 A friend of mine (Omar Karindu, as he goes by on
Comics Should Be Good
and Alvaro's Comicboards) suggested that Action Comics #9, the filler issue with President Calvin Ellis (a.k.a. President Superman, a.k.a the Super-Obama from that Alex Ross shirt brought into canon), was filled with subtext about how companies screw comic creators. Upon re-reading the comic, it's pretty obvious, and quite troubling.
In the comic, Super-Obama faces a corrupted Superman tupla (Tibetan for Solid Thought, a living idea). This was created by the Clark Kent, Jimmy Olsen, and Lois Lane of another world, who created the living idea to embody all that is great in humanity. But they needed a lot of money to bring the Super-Idea into existence, so they went to an amoral corporation who took their Super-Idea and warped it into their Super-Brand. Hence, that trio's world became an Orwellian police state ruled by a faceless, violent Super-Brand, which was colonizing other universes and killing their super-men. To quote their Clark's dying last words;
" He becomes anything you want him to be....our world wanted THAT..."
This is an interesting interpretation of the creator's rights debate that has particularly been on the forefront of the industry discussion in recent months. It also comes across as hypocritical coming from Grant Morrison. Not only has Morrison built his career largely on the characters of others (Superman in particular, but also Batman, the Justice League, and to a lesser extent the X-Men), but his interpretation of Superman transcends any writers or artists-- even Jerry Siegel and Joe Shuster, who he characterizes more as agents of the collective unconscious rather than actual creators of the character.
In Supergods, Morrison's history text/critical essay collection/autobiography/metaphysical ramble (which I've held off on reviewing due to its extremely frustrating and rambling nature), the Scottish writer basically dismisses the problems of Siegel and Shuster. He says that he started "believing" that DC swindled these two young men out of what was rightfully theirs, but later realized that it was business as usual, and both Siegel and Shuster legitimately sold Superman to DC while expecting to keep creating other heroes. Since Morrison is one of DC's highest-profile creators, it makes sense that he wouldn't speak badly about the company that made him a star. But Supergods talks about how Superman is an idea of greatness beyond the men and woman who created him, so Siegel and Shuster end up just a footnote to their own creation. Never mind the fact that both men fought hard battles for the character that DC made billions off of, or that they struggled to make end's meet while their creation made the rich even richer. They're just sacrifices to the cause.
Matt Seneca provides a good argument against Morrison's dismissal
, albeit with harsher language against the man than I would use. I love Morrison's work, though I can't and won't speak to his quality as an actual human being. But his creed, the idea that fictional characters are ultimately more important than real people, isn't just New Age bollocks. It's also the kind of idea that creates the same problem Super-Obama must face, where a faceless brand is placed above the welfare of flesh-and-blood humans. And that comic doesn't even give it a good resolution, because it's Super-Obama who defeats the Super-Brand, not the Clark, Jimmy, and Lois who rightfully own it. Lois calls Super-Obama "Superman done right", but she's just crediting him as a good example of The Brand, not praising his virtues as an individual.
Is Morrison making a hypocritical argument with Action Comics #9, arguing against the ideas that he celebrates as one of DC's golden boys? Is he making a subversives attack against the company through his comics, the kind of statement he can't make directly? Does it even matter? Not really, because Super-Obama was the star of a filler issue. Next issue, we'll go back to the young, "hip", white, marketable "Ultimate Superman" we've seen in the New 52 reboot. And it won't matter that Super-Obama was an example of how to use the brand for good, to empower the downtrodden and reclaim power from the oppressors, because the brand is more important than the sum of its parts. In the end, Superman exists to sell Superman. The great stories told with the character are the result of the individual writers and artists putting in the creative effort to animate him, but in the end, there is no inherent value to Superman. Morrison tries to present Superman as a religion, but like any religion, it can be used as a tool of oppression.
And it's in really bad taste to call attention to the problem at the same time you're profiting from its perpetuation.